Stay Tuned for Summer Leagues!
or call 330-725-1400 to find out more.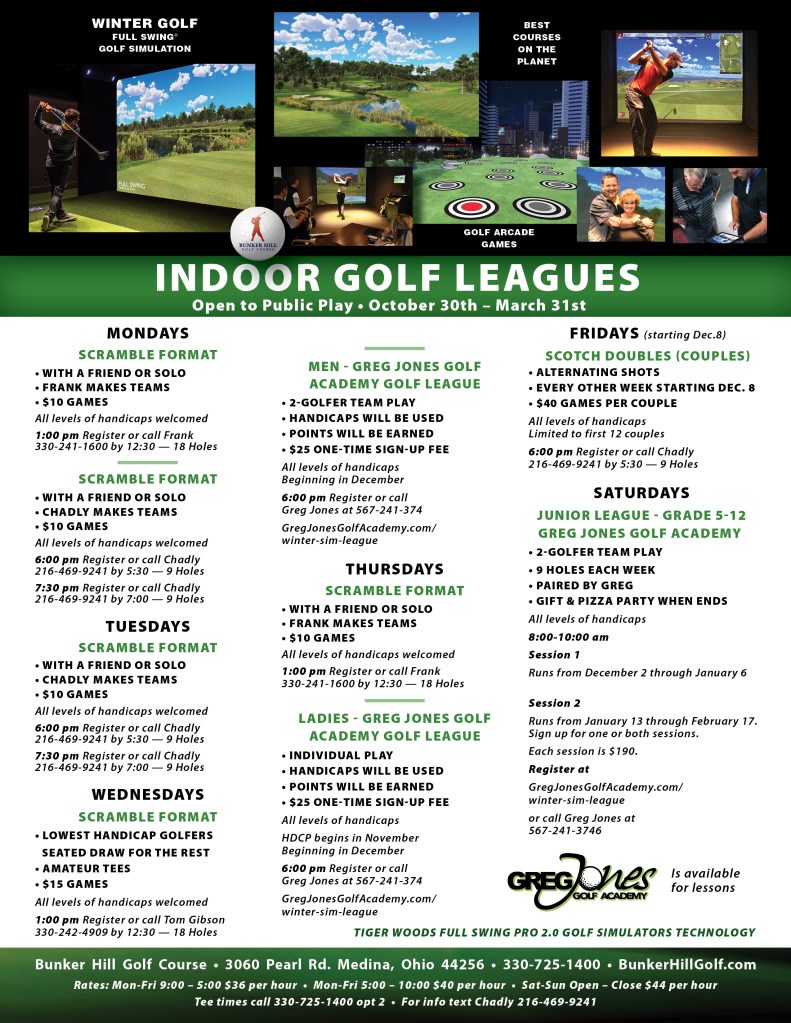 Winter Golf Leagues at Bunker Hill

We have leagues for everyone!
Scotch Doubles Golf
Scotch Doubles Golf
Alternating shots man-woman, man-woman, all 18 holes.  
$40 per couple
Bunker Hill Golf Course
3060 Pearl Rd., Medina
330-725-1400
http://www.bunkerhillgolf.com/

The score doesn't matter, and it's just for fun.  Order from our Winter Menu and invite some friends to come up and watch.  
Very relaxed and FUN! Some are golfers, and some have never played before.  

Text me at 216-469-9241 if you plan on attending and if you are bringing any other couples.
The first 12 couples that register are in each night we play.

#Golf #WinterGolf #SimulatorGolf #WinterGolf #ScotcDoubles
League Membership at Bunker Hill Golf Course
Some leagues are available through Greg Jones Golf Academy
• Junior Leagues • Golf Leagues • Golf Instruction
Click here for more information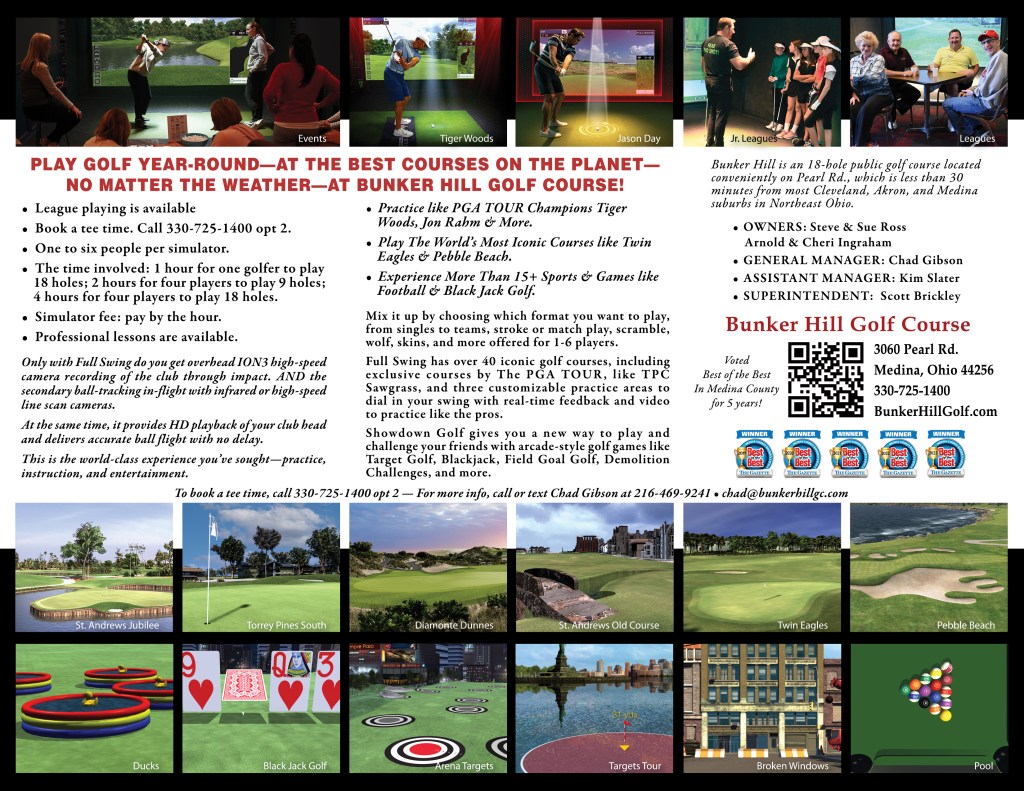 Bunker Hill Simulated Golf
We host morning, afternoon, and evening leagues for adults including seniors, mixed, and ladies leagues.
• Book a tee time. One to four people per simulator.
• Gift certificates for employees, clients, families and friends.
• EVENTS — Private event simulator room
The perfect event activity for birthday parties, anniversaries, graduations, reunions, banquets, bachelor parties, Christmas parties, employee/client appreciation events, expos, and fundraisers — we are the experts.
Fun for all ages
Tee times required
Great food available — made fresh by our chefs
Casual surroundings
Friendly, efficient, and accommodating staff
We combine friendly service and updated facilities with an affordable price to bring you an enjoyable indoor simulated golf experience.
Free, 15-Minute Demos Available
Perfect Event Activity
Private Event Sims Room
Call or text Chad Gibson:
216-469-9241 • chad@bunkerhillgc.com
Play golf year round—at the best courses on the planet—using our golf simulators
League playing available
Book a tee time. Call 330-725-1400 opt 2
One to four people per simulator
Time involved: 1 hour for 1 golfer to play 18 holes; 2 hours for 4 players to play 9 holes; 4 hours for 4 players to play 18 holes.
Simulator fee: /hour (cost can be split)